Start of LEAN Academy SENIOR - the date will be specified
30. 06. 2020
Lean Senior controls advanced techniques to streamline processes | He is able to lead and organize workshops | Can coordinate improvement teams | Effectively implements methodologies for process optimization
Down
LEAN ACADEMY IS A STUDY PROGRAM FOCUSED ON:


1.   practical training of Lean skills for successful implementation, setup and improvement of lean processes
2.   30% theory 70% practice
3.   trainings in cooperation with partner companies – each seminar in cooperation with another company - training takes place directly in operation
4.   sharing experiences between seminar participants seminářů
5.   training presentation skills and providing feedback
6.   development of key skills for teamwork
7.   your own project aimed at improving your business
8.   5x coaching - support students in project management by experienced coaches - do not worry about the project alone
9.   seminars enriched with Lean GAMES - the possibility of using in your company for development and teambuilding
We will be happy to answer your questions and explain the details.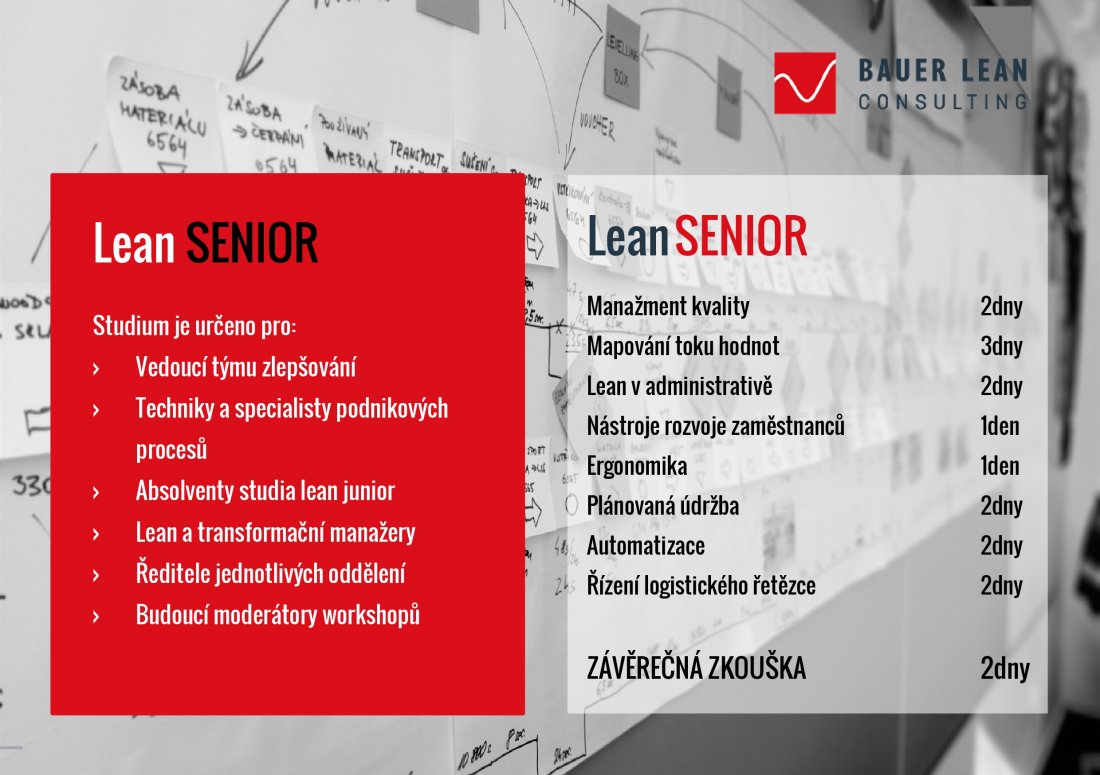 Target group
team leader of improvement
technicians and business process specialists
Lean Junior graduates
Lean and Transformation Managers
Director of each department
future workshop presenters
---
STUDY PRICE
The price of the Lean SENIOR study program is CZK 87 500 and includes: teaching materials, a tour of 9 different companies, lunches and coffee breaks, 5 coaching meetings
Are you interested in our seminar?