15. LEAN KONGRES
24. 11. 2021 - 25. 11. 2021
There is nothing better than personal sharing. Whoever it is, our congress participants always tell us that they benefit most from learning about leanness from peers who are passionate and open. They will tell you about the good, the bad and how they managed to do everything.
Down


15. LEAN CONGRESS
Czech republic
The partners are Fraenkische (general partner), Busch výroba, Faurecia Bakov and Eissmann automotive Bor.
Lean congress will take place on 24-25.11.2021 in Hotel Castle Valeč. https://www.hotel-valec.cz/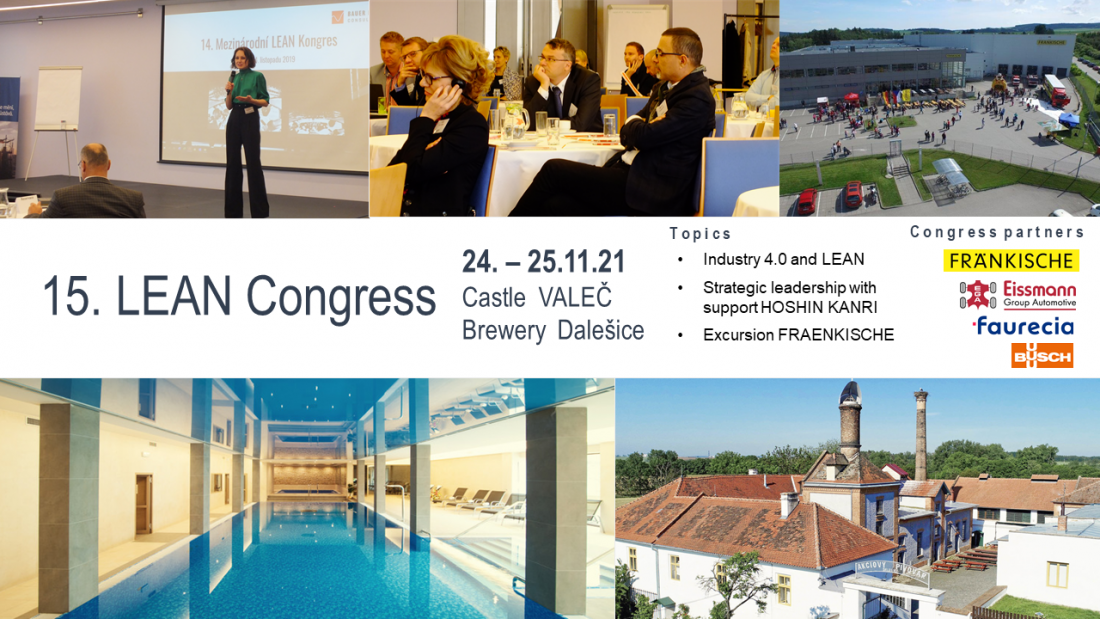 First day 25.11. lectures and discussion especially of plant managers of partners.
Congress topics:
A. Industry 4.0 and lean
B. Strategic leadership with support of lean – hoshin kanri
The evening program is a tour and banquet in the Dalešice brewery - famous for the filming of Postřižiny.
Second day 25.11. Fraenkische excursion (8-year lean implementation trip) including the final evaluation of the Congress
Production tour and logistics tour with guide
Demonstration of Floor Management daily standard meetings, including an interview with the foremen
Introduction of the system of employee involvement in improvement
Introducing the lean training system including the Lean academy
Demonstrations of automation, including RPA office processes
Introduction to the use of management coaching as a tool for development
Introduction to management strategy - hoshin kanri and A3 projects using Value stream Mapping
Over the last two decades, we have helped our congress participants build a personal network of lean practitioners who like to share their common passion for excellence.
As part of your registration, you will have the opportunity to visit a local partner company, immerse yourself in depth with top experts and learn from keynote speakers to help you be inspired on your path to business excellence.
You will also have access to countless networking opportunities with a community of ever-improving people.
"Set your innovative thinking in motion and gain new tools and knowledge to help you save your company's time and money."
Are you interested in our seminar?